The dream of all time, to get around with environmentally friendly vehicles that emit simple water vapor as a waste element, which recharge from nature and in a natural way. From today, the dream becomes reality, thanks to HydrogenForest, the first environmentally sustainable charging stations for hydrogen vehicles. Large tree-like structures growing inside urban forests of Paulownia, the plant that absorbs the most CO2 in the world, about ten times the CO2 of ordinary trees. The project bears the signature of renowned architecture firm Giancarlo Zema Design Group, internationally recognized for its sophisticated smart and environmentally sustainable designs.
ECO-SUSTAINABLE HYDROGEN REFUELING STATION
Tall modular structures with laminated wood ribs measuring 7 meters in height and 20 meters in diameter accommodate hydrogen dispensers at the base and on the stems of the beautiful canopies of vertical greenery. The large green-colored photovoltaic canopy is capable of producing energy from the sun, about 220 kWp in the larger configuration, 60 kWp in the smaller one, and collecting rainwater for maintaining its own foliage. Two configurations of HydrogenForest charging stations have been developed: the larger one (made by merging four trees) for 16-station highway systems and the smaller one (consisting of one or two single trees with circular foliage) of 4 or 8 stations for restricted or urban areas.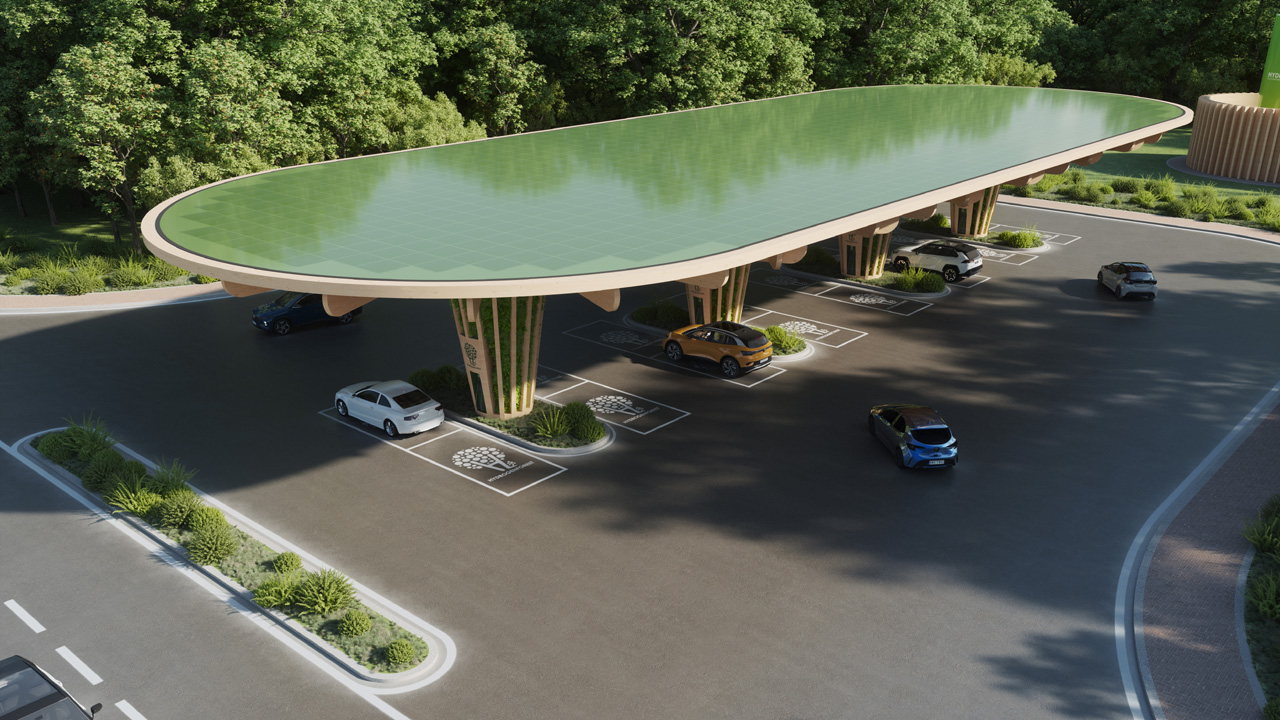 The HydrogenForest charging stations are true oasis of green and oxygen; they will be built within small forests of Paulownia trees, about 1 to 2 hectares capable of absorbing 50 to 100 tons of CO2 per year. Thanks to the partnership with Paulownia4Planet and 17tons, HydrogenForest's trees are connected to IoT sensors, analyzed by Machine Learning algorithms whose digital avatars are blockchained and visualized within the specific application to know in real time how much CO2 they are absorbing and how much oxygen these structures are giving us back. The more HydrogenForest charging stations that are put in place, the more oxygen and green mobility we will put into system on our planet.
In addition, by partnering with KIRI Technologies, a leading British company developing software and technologies that incentivize the adoption of sustainable behaviors, it is possible to reward sustainable behaviors and/or sustainable purchases by HydrogenForest customers with the help of KiriCoin.
The Kiri token can be used within the marketplace to redeem rewards provided by partners. Kiri operates in several sectors with a focus on sustainable mobility, energy, and retail. Among Kiri's various initiatives, famous is the one launched with the Stellantis Group in 13 countries for customers of the Fiat brand's New 500 and customers of JEEP brand PHEV vehicles.
HydrogenForest is a poetic project, rich in symbolic meanings, highly technological and concrete, developed and promoted by the Hydrogenscape company. A new, innovative and emotional "Green" infrastructure model capable of changing the rules of the clean energy distribution market forever.